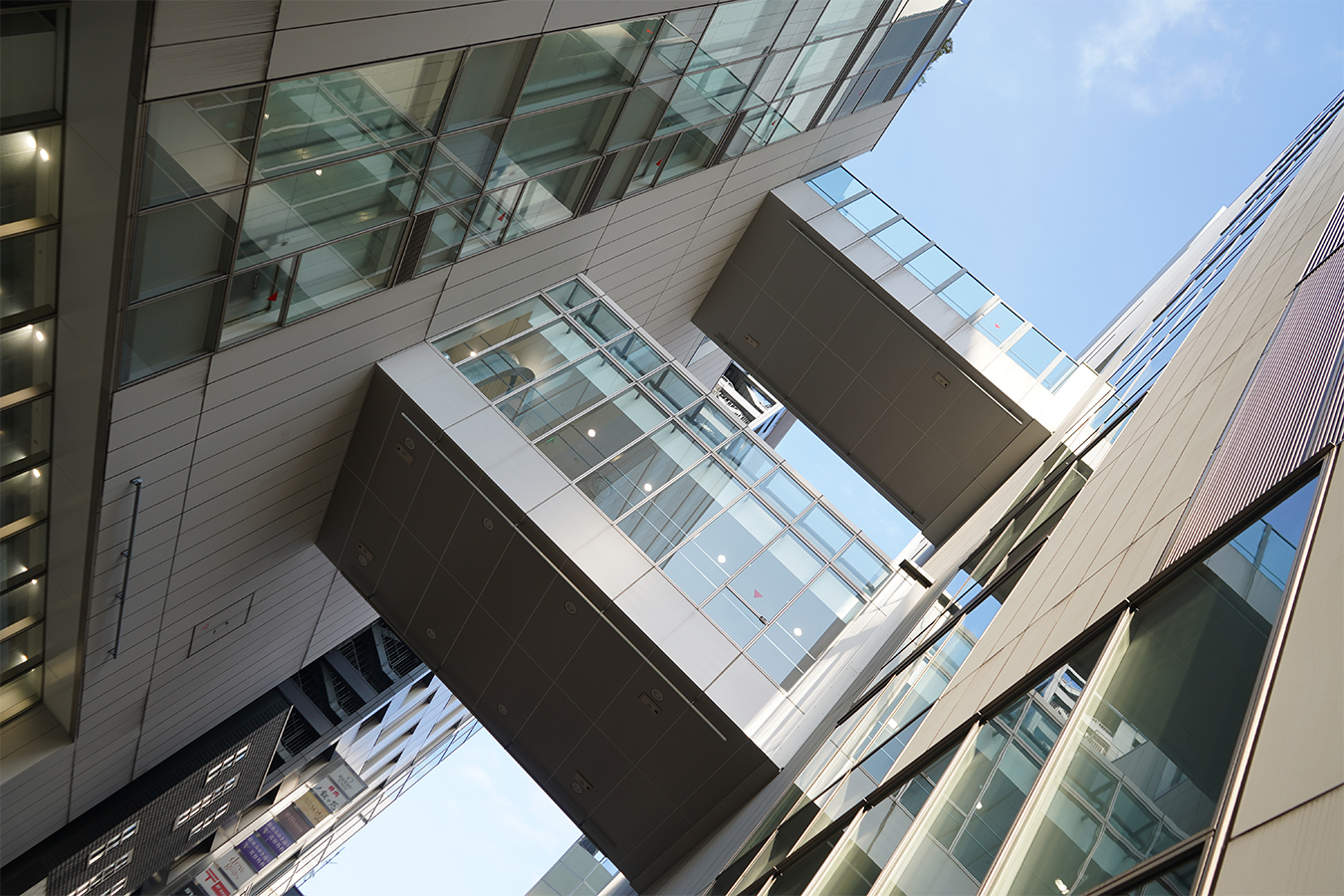 Ginza Komatsu is honored to now have UNIQLO's newest and largest global flagship store occupying floors one through twelve of the East Wing and, in the West Wing, Dover Street Market Ginza, occupying floors one through six, as well as Rose Bakery's third store in Japan and the Komatsu Store-operated KOMATSU BAR in the dining area on the seventh floor.
Previously, Komatsu Store consisted of a main building and an annex, which, when taken together, meant that the store faced the three streets in central Ginza. The main building, located at 6-2-3 Ginza, Chuo-ku, Tokyo, faced the Ginza main street Chuo-dori and Suzuran-dori, a side street situated in the direction of Yurakucho. The annex, located at 6-4-1 Ginza, Chuo-ku, Tokyo, faced Suzuran-dori and West 5th Street.
When we decided to embark on the Ginza Komatsu project, we considered how to leverage its location. With the intent of preserving for posterity some of the history and tradition of the previous Ginza Komatsu buildings, we christened the new buildings standing on the sites of the former Ginza Komatsu main store and Komatsu Annex with the names Ginza Komatsu East and Ginza Komatsu West, respectively.
The new Ginza Komatsu has received certification as a single site, so the buildings on two separate blocks are recognized as one block for regulatory purposes.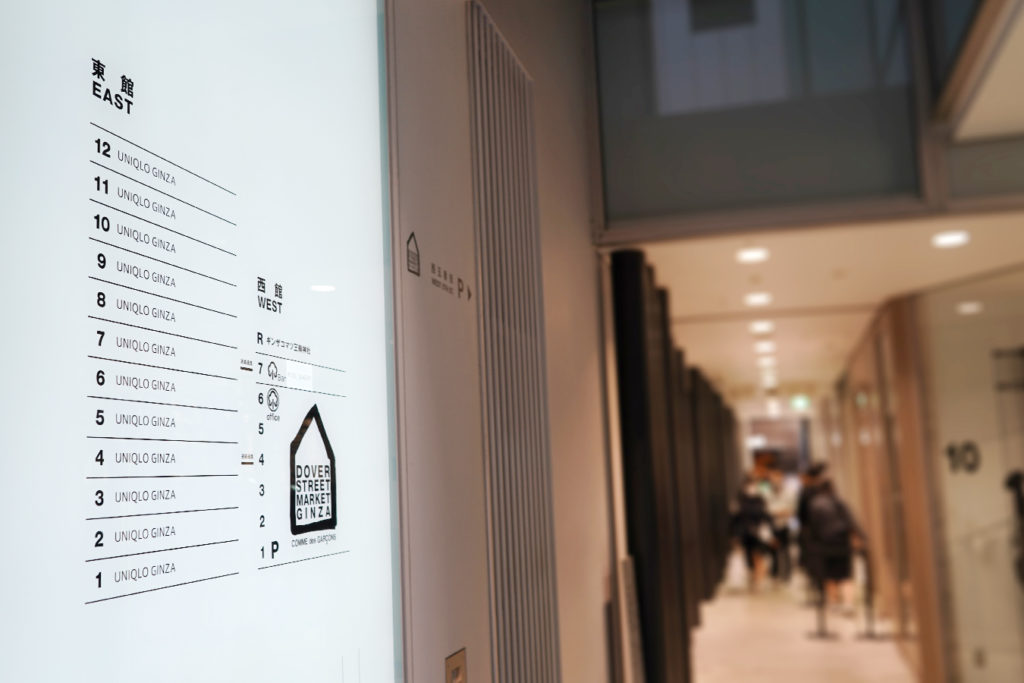 "Certification as a single site" is a system for recognizing exceptions to constructions standards, which, in principle, stipulate that one building is situated on one site. It is applied in cases where a designated public agency has certified that there are no issues having to do with safety, fire prevention, or sanitation as regards the location or structure of the buildings, based on the application.
When this system is applied, it provides greater freedom in design, but also includes a high burden of conditions that must be met, such as securing the appropriate vacant land, greater hassle, time, and cost. Consequently, it usually isn't chosen when constructing a building. However, with the aim of creating an organic building full of life and vigor, Komatsu applied for and received certification.
Receiving certification as a single site allows the designer to consider buildings on two blocks as if they were an integral area. As long as the project as a whole meets construction regulations, there is no need for the buildings on each of the blocks to separately comply with requirements for floor area ratio, direct street access, building-to-land area, and so on. This flexibility brings major benefits to tenants who choose Ginza Komatsu from among the many commercial buildings. We can take advantage of this greater freedom of design, and use it to provide advantages to our tenants. It is Komatsu's belief that this in turn delivers greater value to customers. We are leveraging our experience in the retail industry with the aim of providing real estate for lease in a form that takes the needs of both our tenants and their customers into consideration.
As a result of receiving certification as a single site, we were able to create a space offering a choice of routes through the structures. We installed connecting bridges between the two wings on two levels, as well as passages on the ground level of each building that link together the streets on each side.
Consequently, customers visiting UNIQLO will encounter Dover Street Market Ginza, a new commercial space that shatters preconceptions of what a retail store is. Likewise, customers coming to Dover Street Market Ginza will rediscover the versatility of UNIQLO's products.
Customers have free access to both wings. For example, shoppers coming to the East Wing from Chuo-dori could go to the West Wing by way of the ground-floor passage, then return to the East Wing via the fourth-floor bridge, and then cross over to the West Wing through the seventh-floor bridge. All sorts of routes are possible.
In addition to allowing shoppers to stroll back and forth between the East and West Wings, the space within these two buildings, which would otherwise tend to become cold and closed, now functions in an open, organic way, with movement to Chuo-dori, Suzuran-dori, and West 5th Street now achieved smoothly. In addition to serving Ginza Komatsu, the mobility created by these buildings is likely serve to impart a higher degree of connectivity to the Ginza area.
The East Wing, which extends from the basement one level to the twelfth floor above ground, has an area of 955.72 m2, a total floor area of 9,990.91 m2, and a sales floor area of 5,667.97 m2. The West Wing, which extends from the basement two level to the seventh floor above ground, has an area of 827.99 m2, a total floor area of 6,561.00 m2, and a sales floor area of 2,684.49 m2. Together, this comes to a very large store floor area of 8,352.46 m2, which gives us the joy of having many different ways to please our customers.
The complex's bridges, which form major arteries, as well as the contact with the three streets it interlinks, bring vibrancy and life to Ginza Komatsu, allowing it to continue growing through the many points of contact it has with customers.